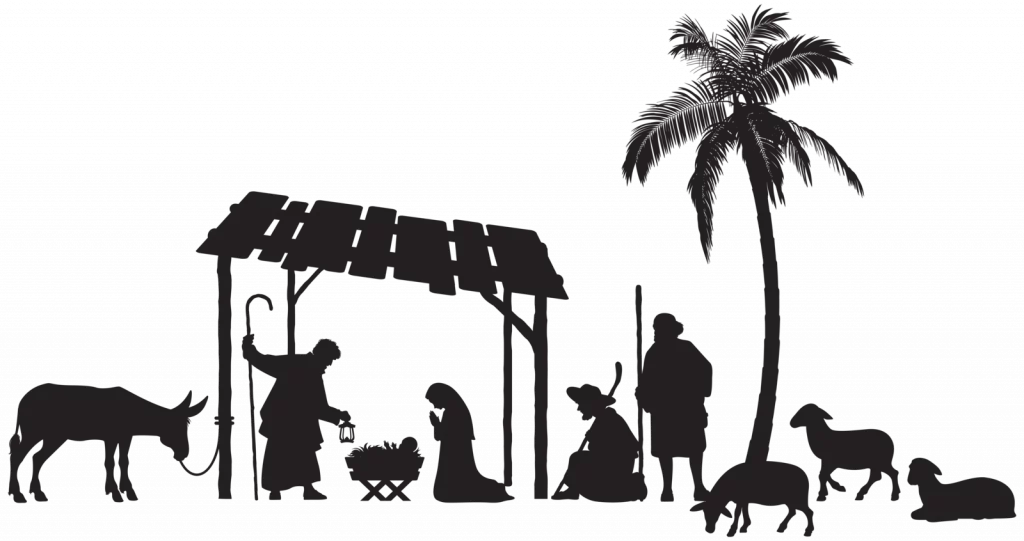 The Birth of Jesus the Messiah
Matthew 1:18-2:23 (NLV)
18 This is how Jesus the Messiah was born. His mother, Mary, was engaged to be married to Joseph. But before the marriage took place, while she was still a virgin, she became pregnant through the power of the Holy Spirit.  
19 Joseph, to whom she was engaged, was a righteous man and did not want to disgrace her publicly, so he decided to break the engagement[a] quietly.
20 As he considered this, an angel of the Lord appeared to him in a dream. "Joseph, son of David," the angel said, "do not be afraid to take Mary as your wife. For the child within her was conceived by the Holy Spirit.
21 And she will have a son, and you are to name him Jesus,[b] for he will save his people from their sins."
22 All of this occurred to fulfill the Lord's message through his prophet:
23 "Look! The virgin will conceive a child!  She will give birth to a son, and they will call him Immanuel,[c] which means 'God is with us.'"
24 When Joseph woke up, he did as the angel of the Lord commanded and took Mary as his wife.
25 But he did not have sexual relations with her until her son was born. And Joseph named him Jesus.

Visitors from the East
2 Jesus was born in Bethlehem in Judea, during the reign of King Herod. About that time some wise men[d] from eastern lands arrived in Jerusalem, asking, 2 "Where is the newborn king of the Jews? We saw his star as it rose,[e] and we have come to worship him."  
3 King Herod was deeply disturbed when he heard this, as was everyone in Jerusalem.
4 He called a meeting of the leading priests and teachers of religious law and asked, "Where is the Messiah supposed to be born?"
5 "In Bethlehem in Judea," they said, "for this is what the prophet wrote:
6 'And you, O Bethlehem in the land of Judah, are not least among the ruling cities[f] of Judah, for a ruler will come from you who will be the shepherd for my people Israel.'[g]"
7 Then Herod called for a private meeting with the wise men, and he learned from them the time when the star first appeared.
8 Then he told them, "Go to Bethlehem and search carefully for the child. And when you find him, come back and tell me so that I can go and worship him, too!"
9 After this interview the wise men went their way. And the star they had seen in the east guided them to Bethlehem. It went ahead of them and stopped over the place where the child was.
10 When they saw the star, they were filled with joy!
11 They entered the house and saw the child with his mother, Mary, and they bowed down and worshiped him. Then they opened their treasure chests and gave him gifts of gold, frankincense, and myrrh.
12 When it was time to leave, they returned to their own country by another route, for God had warned them in a dream not to return to Herod.

The Escape to Egypt
13 After the wise men were gone, an angel of the Lord appeared to Joseph in a dream. "Get up! Flee to Egypt with the child and his mother," the angel said. "Stay there until I tell you to return, because Herod is going to search for the child to kill him."
14 That night Joseph left for Egypt with the child and Mary, his mother,
15 and they stayed there until Herod's death. This fulfilled what the Lord had spoken through the prophet: "I called my Son out of Egypt."[h]
16 Herod was furious when he realized that the wise men had outwitted him. He sent soldiers to kill all the boys in and around Bethlehem who were two years old and under, based on the wise men's report of the star's first appearance.
17 Herod's brutal action fulfilled what God had spoken through the prophet Jeremiah:
18 "A cry was heard in Ramah— weeping and great mourning. Rachel weeps for her children, refusing to be comforted, for they are dead."[i]

The Return to Nazareth
19 When Herod died, an angel of the Lord appeared in a dream to Joseph in Egypt.
20 "Get up!" the angel said. "Take the child and his mother back to the land of Israel, because those who were trying to kill the child are dead."
21 So Joseph got up and returned to the land of Israel with Jesus and his mother.
22 But when he learned that the new ruler of Judea was Herod's son Archelaus, he was afraid to go there. Then, after being warned in a dream, he left for the region of Galilee. 23 So the family went and lived in a town called Nazareth. This fulfilled what the prophets had said: "He will be called a Nazarene." 
The Real St. Nick​
(Santa Claus)
by Dr. Ralph F. Wilson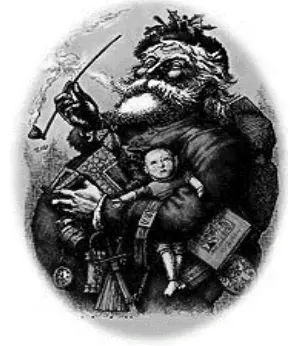 c. 1862 by German American illustrator Thomas Nast (1840-1902)
"A vast multitude was imprisoned in every place," wrote an eyewitness. "The prisons — prepared for murderers and robbers — were filled with bishops, priests, and deacons … so there was no longer room for those condemned of crimes."[1]
You'd hardly expect to find old St. Nick in jail. But St. Nicholas is more than a children's Christmas legend. He was flesh and blood, a prisoner for Christ, bishop of the Mediterranean city of Myra.
What do we know about the real St. Nicholas? He was born, ancient biographers tell us, to wealthy parents in the city of Patara about 270 A.D. He was still young when his mother and father died and left him a fortune.
As a teenager, Nicholas' humility was already evident. He had heard about a family destitute and starving. The father had no money for food, much less the dowry needed to marry off his three daughters. He was ready to send his oldest girl into the streets to earn a living as a prostitute.
Under the cover of night, Nicholas threw a bag of gold coins through the window of their humble dwelling. In the morning the father discovered the gold. How he rejoiced: his family was saved, his daughter's honor preserved, and a dowry for her marriage secured. Some time after, Nicholas secretly provided a dowry for the second daughter. Still later for the third.
But on the third occasion, the girls' father stood watching. As soon as the bag of gold thudded on the floor, he chased after the lad till he caught him. Nicholas was mortified to be discovered in this act of charity. He made the father promise not to tell anyone who had helped his family. Then Nicholas forsook his wealth to answer a call to the ministry.
At the nearby city of Myra a bishop supervised all the churches of the region. When the bishop died, the bishops and ministers from other cities and villages — Nicholas among them — gathered to choose a successor.
Nicholas was in the habit of rising very early and going to the church to pray. This morning an aged minister awaited him in the sanctuary. "Who are you, my son?" he asked. "Nicholas the sinner," the young minister replied. "And I am your servant."
"Come with me," the old priest directed. Nicholas followed him to a room where the bishops had assembled. The elderly minister addressed the gathering. "I had a vision that the first one to enter the church in the morning should be the new bishop of Myra. Here is that man: Nicholas."
Indeed they did choose him as bishop. Nicholas was destined to lead his congregation through the worst tribulation in history.
In A.D. 303, the Roman Emperor Diocletian ordered a brutal persecution of all Christians. Those suspected of following the Lord were ordered to sacrifice to pagan gods. Nicholas and thousands of others refused.
Ministers, bishops, and lay people were dragged to prison. Savage tortures were unleashed on Christians all over the empire. Believers were fed to wild animals. Some were forced to fight gladiators for their lives while bloodthirsty crowds screamed for their death. Women suffered dehumanizing torment. Saints were beaten senseless, others set aflame while still alive.
Yet persecution couldn't stamp out Christianity. Rather it spread. Third Century leader Tertullian observed, "The blood of the martyrs is the seed of the Church." Those who survived Diocletian's torture chambers were called "saints" or "confessors" by the people, because they didn't forsake their confession that Jesus Christ is Lord. Nicholas was one of these.
Finally, after years of imprisonment, the iron doors swung open and Bishop Nicholas walked out, freed by decree of the new Emperor Constantine. As he entered his city once more, his people flocked about him. "Nicholas! Confessor!" they shouted. "Saint Nicholas has come home."
The bishop was beaten but not broken. He served Christ's people in Myra for another thirty years. Through the prayers of this tried and tested soldier of faith, many found salvation and healing. Nicholas participated in the famous Council of Nicea in 325 A.D. He died on December 6, about 343, a living legend, beloved by his whole city.
St. Nick of yuletide fame still carries faint reminders of this ancient man of God. The color of his outfit recollects the red of bishop's robes. "Making a list, checking it twice," probably recalls the old saint's lectures to children about good behavior. Gifts secretly brought on Christmas eve bring to mind his humble generosity to the three daughters.
Yet if he were alive today, this saint would humbly deflect attention from himself. No fur-trimmed hat and coat, no reindeer and sleigh or North Pole workshop. As he did in life centuries ago, Bishop Nicholas would point people to his Master.
"I am Nicholas, a sinner," the old saint would say. "Nicholas, servant of Christ Jesus."
---
[1] Eusebius, Church History, VIII, 6, 9.
NOTES: A great deal of legend has built up around St. Nicholas. The author has carefully selected material which he deemed to be the most credible accounts based on those found in Life of Nicholas by tenth century biographer Symeon Logotheta the Metaphrast, quoted by Charles W. Jones in Saint Nicholas of Myra, Bari, and Manhattan: Biography of a Legend (Chicago: University of Chicago Press, 1978).
Happy Birthday to Chris!
When I was searching my photos to post for this day of celebration I thought this would be the most appropriate. This is in Marion Correctional Chapel, where she was the Warden and had such a positive impact on many lives. They are praying out an Embark participant as he returns to society. Besides being a tremendous wife, mother, sister, daughter, and friend for our family this is the room where a true revival took place. Chris is in the picture filled with residents and Embark volunteers, but in the background, where God has taught her to lead in an undeniable way. Whether Chris is engaging with Governors, Senators, Bishops, the incarcerated, corrections staff, grandchildren or friends she is always the same Chris. There is only one version and I'm blessed to have been a part of her story for 40 years.
Help me wish Chris a happy birthday!!!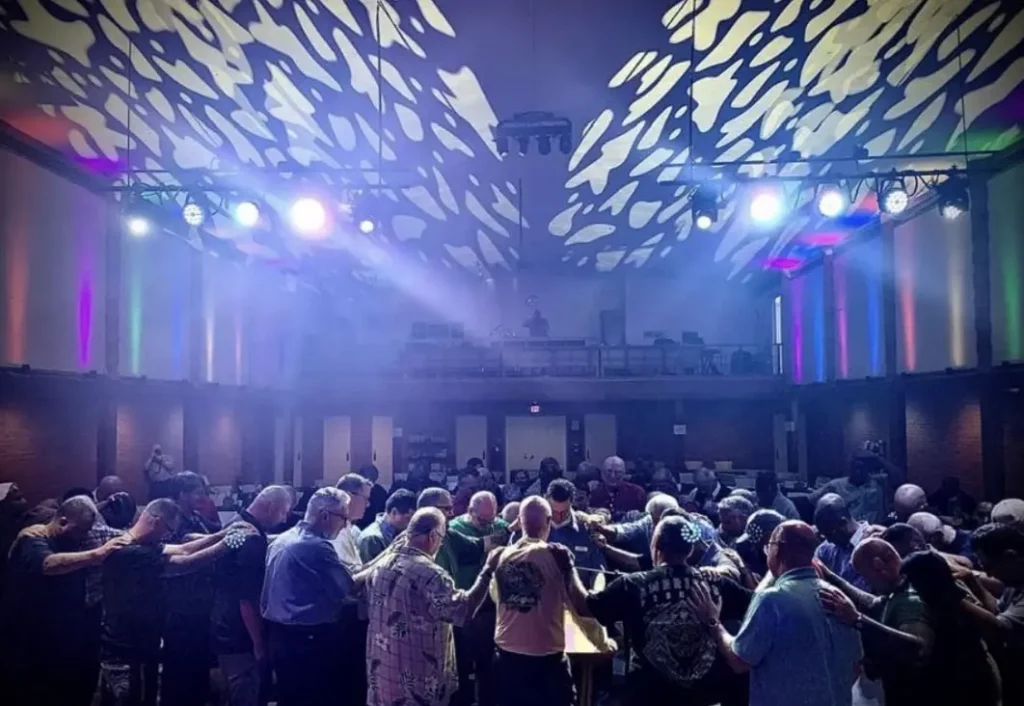 ---
Christmas Midnight Mass
By Kelly Roper
The alter is decorated with pine boughs
And red velvet bows tied in place.
Scents of beeswax and incense fill the air
Bestowing a heightened sense of Grace.
The church is shrouded in silence
And a feeling of peaceful anticipation.
The angels are already gathering,
To take part in the jubilation.
Parishioners greet one another
On this holy and joyous night.
They come to celebrate Jesus' birth
And take part in the sacred rite.
All rise in their pews as the procession begins
And give voice to a beloved Christmas hymn.
There'll be prayers and readings and time-honored rituals,
And the Holy Spirit will dwell with them.
For this is midnight Mass on Christmas,
And "yonder breaks a new and glorious morn."
So when the church doors swing open,
Go forth declaring Christ is born!
---
Christine's Prayer
By Jennifer L. Betts
For Christine, Christmas Eve wasn't the exciting time for her family of seven like it was for everyone else's. Pulling on her tattered coat that morning, Christine sighed, thinking about her youngest sister Letty. She wanted new sneakers for gym and Christine had been saving up for them. But when Willy had gotten sick, it had taken everything the family had to ensure they could pay the medical bills. Christine also knew Momma had splurged a bit on Christmas dinner for the family.
Full bellies are better than Christmas sneakers anyway, right? Christine thought, kicking an old stone on the ground.
A gust of wind picked up, sending Christine's schedule sailing out of her hands.
"Darn it," she muttered, chasing it across the street.
The paper floated into thetown nativity scene, catching on baby Jesus' manger. Grabbing up her paper, Christine smiled down at the sweet baby Jesus. Shae said a small prayer for her family and took one last look at Jesus before walking away. As she was walking, shenoticed a small elderly woman get up from a bench just outside the nativity scene. A small slip ofpaper seemed to fall out of her purse as she put it on her shoulder.
Christine knew her family would be waiting for her, but she rushed over to the bench to grab up the piece of paper the woman had dropped. She gasped, realizing the paper that had fallen out of the woman's purse was actually not one, but two folded hundred-dollar bills. Christine looked at the money greedily, her heart yearning to use the money to give her family a nice Christmas.
With shaking hands, she picked up the money- almost stuffing ti her pocket. But she knew that wouldn't be right. With a sigh of resignation, she turned and called out to the woman.
"Ma'am," she shouted, running towards her. "You dropped something."
The woman turned toward her curiously.
"You dropped this." Christine said, handing her the money and quickly swallowing back a lump in her throat.
The women eyed her quizzically.
"Thank you, my dear."
Her voice was smooth and warm, just like Christine's Gram, who had just passed on a few months back.
"No problem, Ma'am," Christine smiled.
Christine turned to walk away when the woman stopped her and asked, "What's your name, my dear?"
Christine's smile widened a little further. "Christine Darling, Ma'am."
The woman, who Christine noticed had warm, sad eyes, smiled slightly.
"This is going to sound like an odd request, Christine, but would you mind chatting with me for a bit?"
Not at all," Christine answered, wanting to spend a bit more time with this woman that reminded her of her Grandmother.
Over the course of the next hour, Christine chatted pleasantly with Martha. Martha told her about the devastating loss of her daughter.
"You remind me so much of her," Martha commented, grabbing Christine's hand and wrapping it in warmth.
Christine smiled, squeezing her hand back.
Silence filled the air, so Christine started telling Martha her own family's story.
The minutes blended into hours until her nose was a little numb. Looking at her, Martha stood up.
"Your family will be missing you, for sure." Martha smiled, pulling Christine's coat a bit tighter around her body.
Abashed, Christine looked at her phone, noticing for the first time al the messages. "Right!" she muttered hurriedly, giving Martha a gentle hug.
She was about to walk away when she said, "I should really apologize to you."
"For what, sweetheart?"
Christine sighed.
"Well, I nearly took that money you dropped – but I'm glad I didn't. I wouldn't have met you otherwise."
Martha smiled.
"I'm glad as well."
"I know it won't be much, but if you're lonely tomorrow, you're more than welcome to our family Christmas. Mom went all out so there wil be lots to eat."
Martha's smile reached her eyes.
"If I do come, should I bring something?"
Christine just shook her head with a smile, and they parted ways. Stopping again at the nativity scene, Christine said a small prayer thanking God for introducing her to Martha and asking if there was any way that he could help her to get Letty those shoes she'd been asking for.
The next morning, as Christine was rubbing the sleep from her eyes, al she could make out was Letty's piercing squeal. "PRESENTS!"
Rushing down the stairs, Christine's eyes widened at the bounty of gifts overflowing through the open door.
Her sister Letty ran at her with a wide smile and shining eyes, clutching a pair of sparkly new white sneakers.
"Look at these shoes, Christine!" Letty squealed.
Christine turned to her mother in confusion. Her momma's eyes were a mixture of shock and bountiful happiness.
Pulling the door open wider revealed a small slip of a woman.
"Martha?" Christine said questioningly, looking at the woman ni confusion. Martha smiled at her sweetly.
"I know you said I shouldn't bring anything but…" her smile widened, "You were truly the answer to my prayers last night. The glint of your eyes and the shine of your smile made me feel like I got to talk to my daughter one last time. When I wanted nothing more for Christmas than to join her, a beautiful" her eyes crinkled, "and honest, angel sat with me and pushed away my despair. Because you answered my prayer, I felt God wanted me to answer yours.
Pulling Christine into a hug, she said, "Merry Christmas, my dear."
Moral of the Story: God is always listening. And answering someone else's prayers might just be the answer to your own.
In all things I have shown you that by working hard in this way we must help the weak and remember the words of the Lord Jesus, how he himself said, I't is more blessed to give than to receive.' Acts 20:35. ESV
Then you will call on me and come and pray to me, and I will listen to you. 31 You will seek me and find mewhen youseek me with all your heart. Jeremiah 29:12-13, NIV